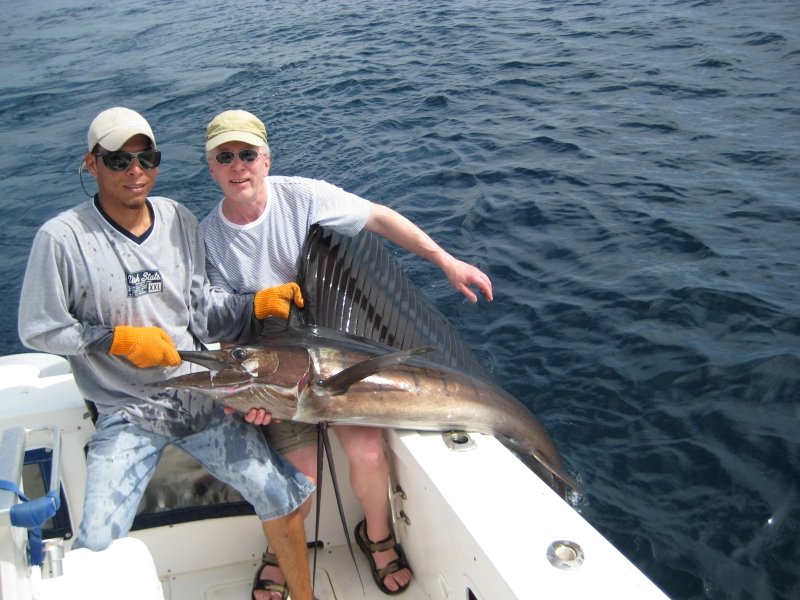 Marlin fishing stayed good with eight groups catching 19 marlin – 16 blacks, two blues and one striped marlin – not many stripes here.
Yellow fin here in good numbers but fish up to 100lb – a lot of fun on surface poppers. We should be seeing the 200lb plus tuna here any day – this is the time of year for them.
We also had large dolphin in good numbers and decent catches of wahoo – both better than normal -also mullet snapper, cubera snapper, amber jack, rooster fish, sailfish and blue jacks rounded things out.
Water has been blue, in the low 80s so all looks good heading into March. Also the sharks that we where catching last month that are not normally here I think are salmon sharks – included a picture of one on this report.
Captain Lee,
I am just writing to thank you for a truly amazing fishing experience. This was a special trip for the six of us as it was a father/son experience. We all had a great time and the fishing was world-class. You and your team worked together to exceed our expectations in every way. The fishing was great, the accommodations nice and the food excellent. Your entire group operates in concert as a "well oiled machine" with you at the wheel. I will certainly be back to fish with you again soon. Take good care and thanks again. Craig Esrael.
Capt Lee,
Our group had a great time at the Big Game Panama Fishing Club. The fishing was exceptional with our group of 4 landing 4 Black and 1 Blue Marlin along with a sailfish in 3 days of fishing. Not to mention numerous Yellow fin Tuna. Food was wonderful, drinks flowed freely along with the stories and the accommodations were first rate. Thanks, we'll be back. Steve Ditto
Hi Lee,
Thanks for the GREAT TIME! Everyone really enjoyed it and I am sure we will schedule again. We do have some nice pictures, one that has a sail fish high in the air. But we do have them all on a CD also. We think we caught a total of 41 fish, I will also send you the numbers of each type.
Thanks again, Gary