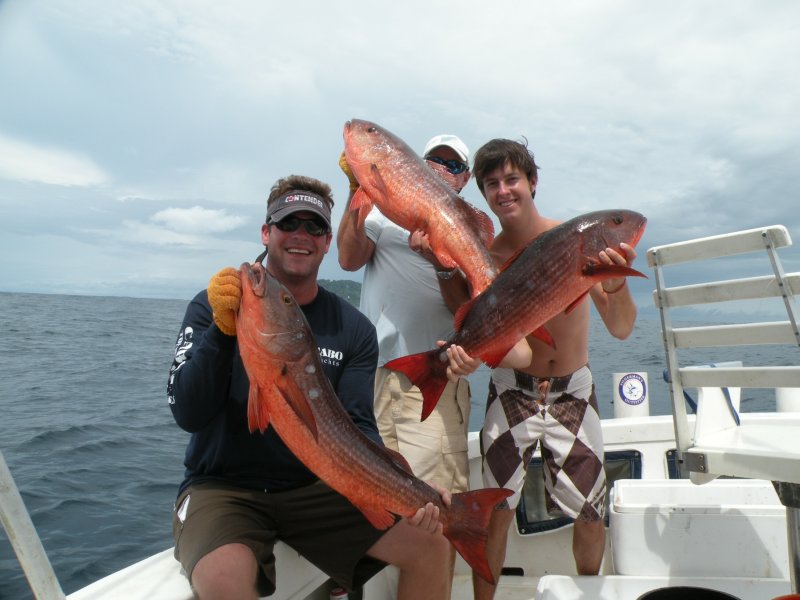 Lee, the trip to the Panama Big Game Fishing Club was great even beyond my high expectations. I have already told a couple of my fishing friends what a great place to go to fish and relax Panama Big Game is. As you know from our original correspondence, my interest was primarily in fishing especially for the big ones. I can honestly say that I would go to Panama Big Game just for the wonderful food, people who work there, laundry service, solitude and relaxation in the beautiful villa. Twice a year would work just fine; once during the height of the marlin season and once when the club is not full. The 200 pound yellow fin tuna, 60 pound Wahoo, several mahi mahi 50-25 pounds, and three rooster fish fit my fishing menu quite well to say nothing of the gourmet preparation for dinner. Thanks, Lee for such a well run relaxing fish club and the home made food especially the key lime pie and whipped cream. See you again soon. Mike Davis.
The end of April and May we had terrible water here – never have seen that in the 7 years we have been fishing in Panama. Usually the tuna fishing is all you want with good Marlin and great inshore action but had no action off shore and some action inshore. It cleared out the middle of June and July was good. We had large numbers of Dorado (dolphin), most over 20 lbs. or better that we usually do not have this time of year along with yellow fin tuna up to 200 lbs. The inshore with Rooster fish, Mullet snapper (allot of them on top water), cubera snapper, and blue Jacks was very good. With 4 groups fishing we only got 2 marlin – both Blacks-which is low. Normally in July, August and Sept. we average at least two marlin per group. Also we caught a few Wahoo but this time of year we should be catching double digit wahoo every day, if spending time to catch them. We are also seeing Humpback Whales almost every day out. Capt. Lee.
Dear Capt. Lee
We had a fantastic trip and I hope these photos give an idea of the variety and flavor of what we experienced at Panama Big Game Fishing Club! LOTS of fish – it really was almost nonstop activity for the 3 days we were with you – the marlin was the highlight for the boys – although I think George would have stayed tuna fishing all day everyday – there were certainly plenty of them about! The staff were all so charming and friendly and worked really hard to give us an amazing fishing trip and of course your cooking was legendary – good job we only stayed for 3 days because I would have been the size of a house if we had stayed more! With very best wishes, Grace.