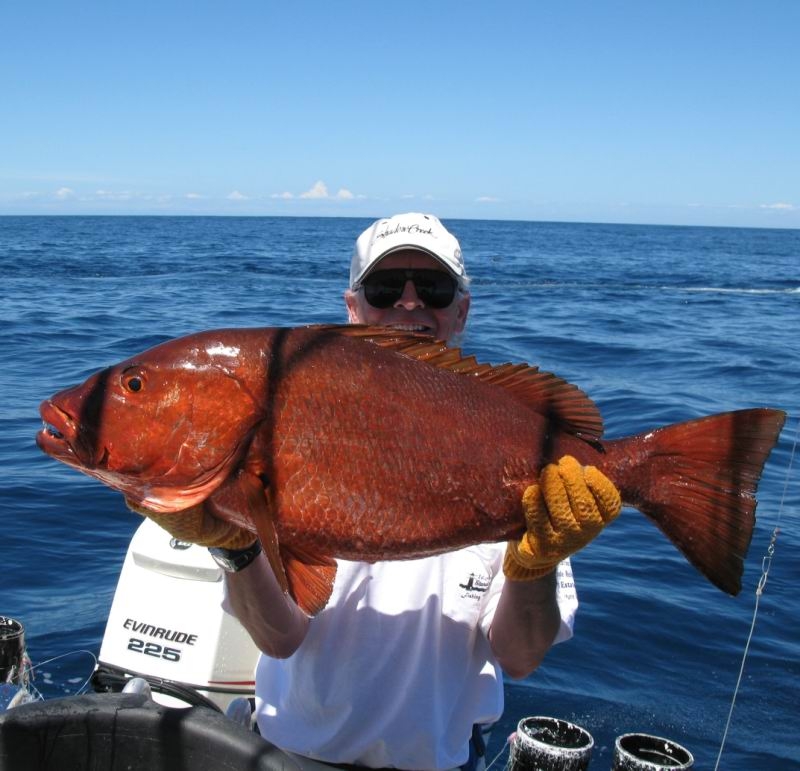 Fishing this month was very good – added 24 marlin to the total for the year-bringing the total to 76: 61 blacks, 14 blues, and 1 stripped marlin. Would have had more but 5 groups where just fishing tuna and inshore. Large dorado, yellow fin tuna where is good numbers along with inshore action – cubera snapper, rooster fish, blue travale, wahoo, etc. and some sailfish off shore also. The only slow period was a few days in the second week in April – but got 2 black marlin. Starting April 24 we had an algae bloom – have never seen one like this before – that shut down all off shore action – but still had OK inshore action. It should clear out in a few more days and everything should get back to normal.
Capt. Lee Campbell
"The Marlin fishing at Panama Big Game Fishing Club lived up to its reputation. I boated a 400 lb Blue and my buddy Ed Rosicky of Maderia Beach Florida pulled in a 500 lb Black. Of course we released them to grow up." Wil Brennan
Hello Lee- Just letting you know that all 4 of us made it back to work in good health and a tanned faces to show off. On behalf of all I just wanted to thank you for a great time at your fishing lodge, it was a great getaway. Hope we can return sometime in the future. Thanks again.
Joe Stewart
Had a great time Lee, although I should have done a black marlin trip 15 years ago before I damaged my shoulder. Come to think of it I should have done a lot of things 15 ago. I've got some excellent fish recipes but none with curry which would be great on some types of stronger fish. would you be good enough to send me that recipe. Thanks again, Pat Geist.
For those of you who love Lee's cooking here is the recipe:
Captain Lee's Curry Sauce For Fish
fine dice onions, carrots, green or red bell peppers and celery
mince fresh garlic
buy a good canned Italian plum tomatoes-
good curry powder
green curry paste-house of Tai is a good one
coconut milk
chicken stock-
regular or light olive oil-
heat olive oil – sauté onions, carrots, celery .green or red bell peppers – when they start to soften add dry curry powder-do not need much-for 2 quarts of sauce maybe 2 -3 tablespoons. – curry powder needs to melt in the veggies-maybe 2 minutes-then add garlic and canned tomatoes-puree the tomatoes in a blender or food processor – thin out with chicken stock – need to simmer very slowly – covered for one hour – add stock as needed – coat fish in olive oil-sprinkle with salt and pepper-add skin side up to hot non-stick pan – sauté until brown – turn over – add Curry sauce – slow simmer – do not over cook the fish – remove fish – add coconut milk, just enough to lighten up the sauce – spoon over fish and serve – the remaining sauce blend in the curry paste until it gets as spicy as you want it – serve the hotter sauce on the side.